After the news that the Biden administration is going to make it easier to convert existing office buildings into homes for the community, a wave of new opportunities have opened up for developers.
In this blog post, we take a look at how this new initiative will be beneficial to developers, key challenges to be aware of, and how LandInsight can make it even easier to leverage this opportunity.
What's the new initiative?
The government is using federal funds to incentivise developers to convert office buildings into residential properties. It is a result of the dual problem of growing vacant office stock and the rising cost of rent and house prices.The plan aims to provide federal funds and technical support to encourage developers to convert these existing office buildings into residential units.
This could offer a real opportunity to unlock more parcels of land for developers to provide more affordable housing in areas that need it. But the initiative will need support from local governments to help unlock restrictive zoning and land use laws that could be a blocker.
Benefits for developers
As the initiative is being pushed on a federal level, there's a lot of planned support to make this as enticing as possible for developers. This is set to include technical assistance and financial incentives, including:
Low-interest loans
Loan guarantees
Multi-family construction tax deductions
Grant options being brought forward
Alongside the financial benefits, you'll have the chance to replace defunct commercial stock with affordable housing and help tackle the growing housing crisis. Not only will this help provide much-needed homes, but they're likely to be near critical transport infrastructure as many of the central office buildings were designated with accessibility in mind.
This will help to build more environmentally sustainable communities – as retrofitting and conversion of existing buildings produce less carbon than building new developments from scratch.
This will also create new opportunities by increasing the number of sites to go after – particularly important as much of this office stock is likely to lie in dense towns and cities where there is typically a lot of land that is already developed or not zoned for multi-family housing.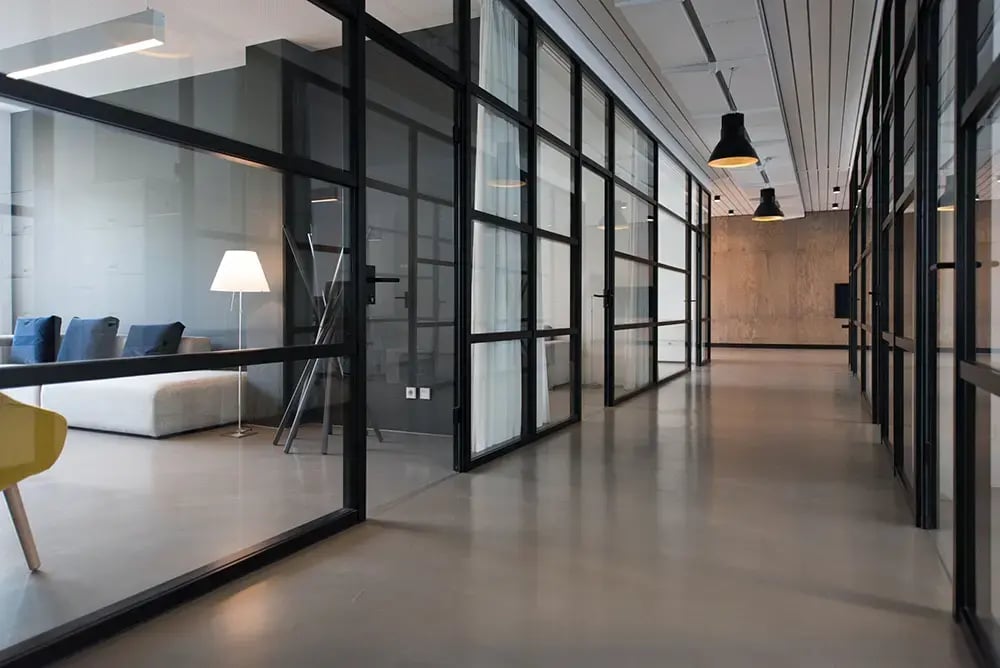 Challenges to be aware of
It may seem like a win-win scenario but there are challenges you'll need to be aware of when converting office stock to housing.
After all, office buildings were not designed with this use in mind and when carving them up into smaller units you should remain aware of a few key pitfalls:
Size – squeezing the most profit out of an asset is a smart financial play. However, it can't be at the detriment of creating quality, good-sized homes that people will want to live in.
Natural light – do all habitable rooms have access to natural light? This can have a huge impact on saleability and the mental well-being of future inhabitants.
Accessibility – when converting into multiple units on the same floor, you need to ensure that there's enough access points and fire exits to serve all areas of the building. Plus, equal access to utilities, such as heating and cooling controls or garbage chutes.
Parking and Walkability – office buildings are normally located in commercial zones, and were built with commercial parking standards. You'll need to think about what amenities are available within walking distance, and is there enough car parking to meet the needs of future residents.
On top of these considerations, you'll need to think about the surrounding community and local government – how can you create something that aligns with the interests of all?
Having the right data is a great first step to making informed decisions.
How LandInsight can help
LandInsight is our site-sourcing tool – designed to help you find new opportunities fast.
Easily see zoning data for Florida, and filter to only show areas zoned for offices. Combine this with our ownership layer and save any individual sites within this zone that may be of potential interest.
From here, you can carry out further due diligence from the sites card.
In just a few clicks, you can see information on:
Site information – the square footage, title owner and Parcel ID
Comparables – how much other sites are selling for in the area
Demographics – who lives in the area and whether it is an opportunity zone
Hazards – check if there are any flood zones or wetlands nearby
The combination of all of these powerful data layers can help paint a very vivid picture of the site in which a potential office conversion sits, as well as the surrounding neighborhood.
Want to start finding office opportunities with LandInsight?
Speak to a member of our team today to find out more about how you can source and assess the suitability of office stock.
Request a demo