Florida has always been a popular destination for seasonal second homes – but recent population stats have shown that it's no longer just a vacation spot.
This is particularly true of Miami, one of America's most global cities, which has seen huge amounts of domestic and international migration in recent years. In fact, it was the most popular metro migration destination in 2021.
Combine this with Mayor Suarez's push to attract West Coast tech talent into Miami, and you've got a massive influx of new residents in need of housing.
But can Miami's housing market handle this influx of demand?
The Miami Housing Market
From 2011 to 2021, Miami's population increased by 8% – 408,760 to 439,906. To emphasize just how explosive Miami's growth has been – this was triple that of New York for the same time period.
This demographic shift has had a knock-on effect on wage and house price growth.
For the same time period, there has been a 44% increase in average wages – $45,780 to $66,040.
Interestingly, the steepest climb in average wages happened from 2019 to 2021.
This could be attributed to the great job shift that took place during the pandemic, with many people leaving lower-paid jobs, such as hospitality and retail. The gap this left behind meant that many companies were forced to offer higher wages and bonuses to lure in a replacement workforce.
We can see the wage increase reflected in Miami's house prices. However, they've experienced an even bigger jump – further widening the gap between what people are paid and the amount needed to buy a home.
In Miami, house prices have risen 175% in the past ten years – with the average home in the area rising from $201,744 to $556,582.
However, things start to get really interesting when we separate house price data for single-family homes and compare this against all home values.
According to Zillow's research, the value of single-family homes was lower between 2012 and 2015 and was pretty similar to the value of other home types.
But then in 2016 the value of single-family homes started to grow at a faster rate and has sustained a premium value up until the end of 2022.
As of October 2022, the average price for single family homes in Miami was $636,518 compared to $556,582 for all homes.
To investigate why, we took a look at the zoning for Miami – a dataset exclusive to LandInsight.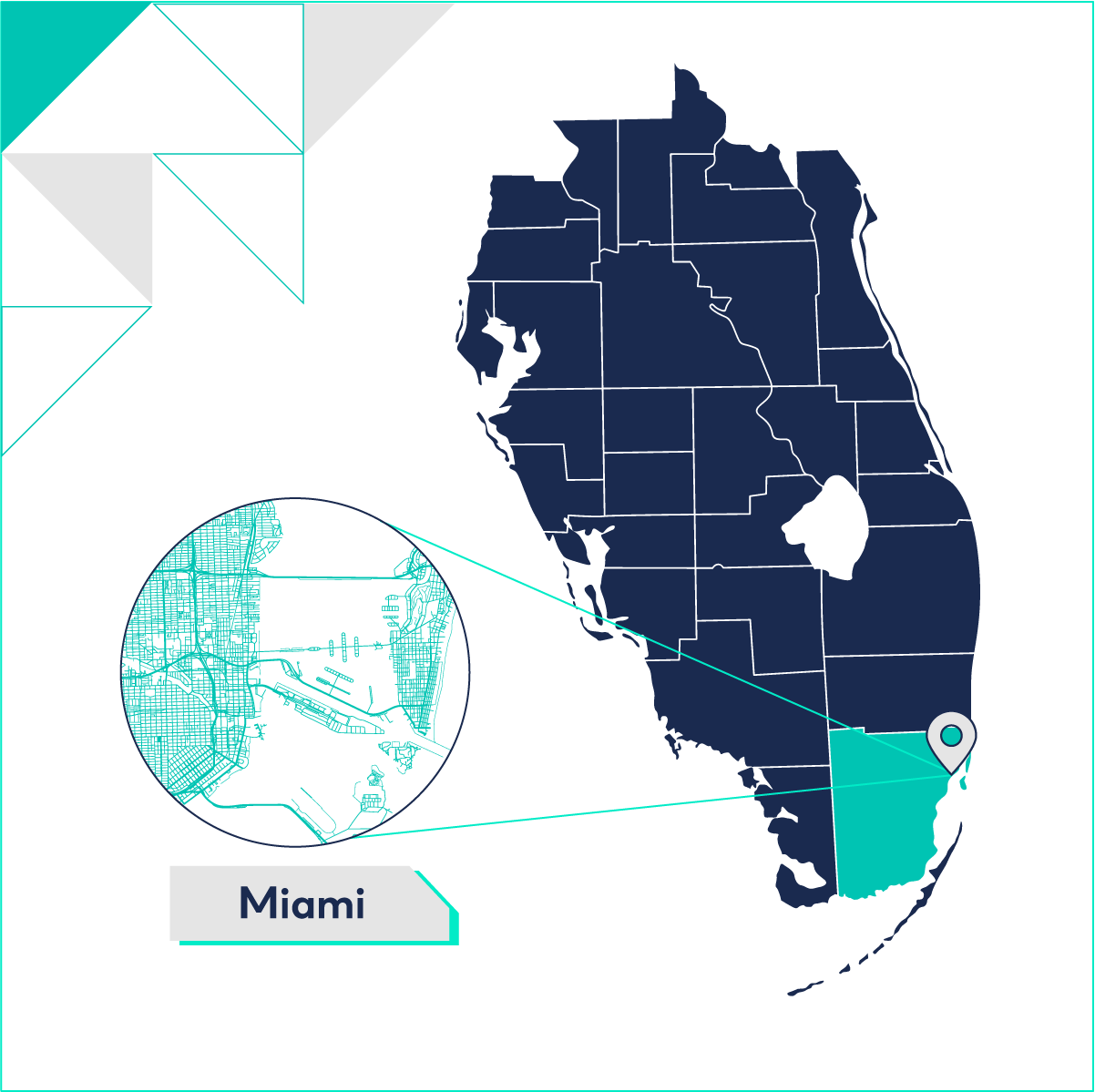 A deep dive into Miami's Zoning data
Single-family zoning dominates the Miami housing landscape.
Of the nearly 1.5 billion square feet of Miami City – 167 million square feet are zoned for single-family units. Other housing zoning receives 134 million square feet. In other words, the ratio of single-family zoning to other residential zoning is 1.24:1.
While three of the five districts of Miami have a higher ratio of other housing zones than single-family zones – District 4 (includes parts of Flagami, West Flagler, and Coral Way) has four times the amount of single-family zones than other housing zones.
District 4, which extends from the county line down to the oceanfront in the South of the city, is typically known for being a residential area for commuters. So, the high ratio of single-family zoning makes somewhat sense, but it still raises the question – is this the most space-efficient way of providing housing to a fast-growing population?
What Does This Mean for Developers?
Miami's increasing population, reputation as a popular migration destination and recent wage growth have combined to create a surge in housing demand.
And with rising demand, comes more opportunities for developers operating in this area.
The abundance of single-family zones does limit developers to some extent as they're not able to maximize the number of units per land parcel – and get the most value out of the land.
The lack of consideration for future population growth could also lead to a housing shortage in the near future as land is not being used in the most space-efficient way.
Despite the zoning laws restricting the type of housing being built in certain districts, there is still room to work within these constraints.
The inefficient allocation of land and predominant focus on single-family homes means that their value will likely continue to increase – more so than other housing types.
So, despite developers not being able to wring more value out of the land by building more units there, the homes they will be building will fetch a higher price.
Unfortunately, it does also mean that there'll be more competition for suitable parcels of land.
Get ahead of your competition
Zoning data can help unlock opportunities and provide clear guidance on what's achievable from a space and profit perspective.
However, it's still fairly difficult to get hold of this valuable data due to a lack of centralization and non-standard formatting – making it harder to compare plots like for like.
Until we launched LandInsight that is.
Now, you can easily access zoning and ownership data all in one place. Sourcing, assessing and project managing opportunities can all be done within LandInsight – saving you time and money.