In our recent blog post, we took a look at Miami's zoning constraints data and the impact this has on the city's housing market.
We spotted some interesting patterns – mainly how resistance to the introduction of multi-family zoning and the lack of inclusionary zoning measures is driving up the price of single family housing and putting a squeeze on land availability.
Read our Miami data story here.
In this report, we want to zoom in a bit further and focus on two neighborhoods within Miami – Upper Eastside and Flagami.
But, before we do that let's set the scene a bit and look at Miami as a whole.
Miami overview
Miami has always been the financial powerhouse of Florida – contributing approximately one-third of the state's GDP.
And with Mayor Suarez looking to reinvent the city as a tech hub and attract talent from the West coast, this growth is only set to continue. Particularly when combining this with the 228 days of sunshine the city enjoys – Miami is a migration hot spot.
So much so, that over half the population was born outside of the state.
Two of the major factors affecting Miami's housing market are historic migration patterns (i.e. where people have come from), and the city's zoning regulation (i.e. what types of houses are allowed to be built to house these people). To truly understand how these factors interact across the city, we have narrowed in on two of Miami's neighborhoods.


Neighborhood breakdown
Hyper-localized data is key for understanding the patch you operate in. And we want to look at two neighborhoods in the Miami area to give you insights into how much variety there can be even within one city.
In this report, we'll be looking at the Upper East Side and Flagami.
The Upper East Side's housing market
The Upper East Side is a residential neighborhood along Miami's coastline and is made up of several sub-regions: Magnolia Park, Bay Point, Morningside, Bayside, Belle Meade, Shorecrest, and Palm Grove.
As of 2010, the Upper East Side had a population of 12,500 residents. Its proximity to the water, combined with the distinctive Miami Modern (MiMo) architecture makes it a prime location for single-family homes.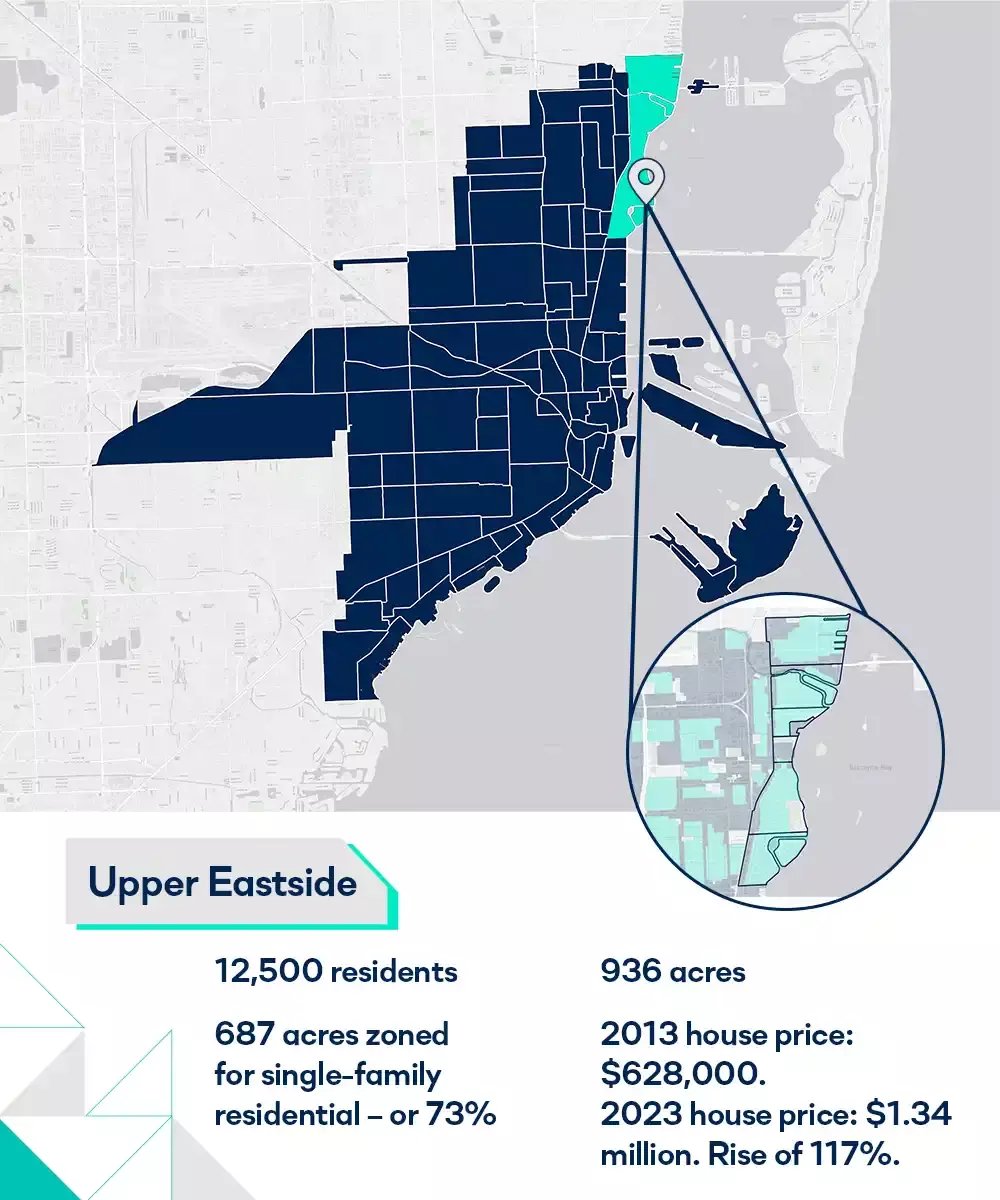 73% of the Upper East Side's 936 acres is zoned for single-family residential. Compare this to Miami as a whole, where the zoning is 44% single-family residential. It makes sense that the percentage of residential zoning is so much higher than the city due to the historic settlement patterns, formed during the 1920s and 1930s, and the suburban nature of the Upper East Side.
Just 17% of the Upper East Side is not restricted by zoning by single-family residential. To put it in context, for every one acre of land that allows two-family or multi-family residential, there are 4.5 acres of single-family zones.
This proliferation of single-family zoned land has resulted in the formation of some very large households, with the average household size in the Upper East Side sitting at 6.1 persons, compared to an average of just 2.4 for the rest of Miami.
We pulled comparables data from LandInsight to look at the change in house prices in the Upper East Side from 2013 to 2023. Average house prices rose from $628,000 to $1.34 million – an increase of 117%.
Although Miami's overall house price growth for the same period was higher at 196%, the Upper East Side is following the trend that areas with a high percentage of single-family zones are seeing a steep increase in house prices.
Now, let's take a look at a neighborhood experiencing the opposite.
Flagami's housing market
Flagami is a suburban area in Miami with over 50,000 people living there in 2010 (12.5% of Miami's total population).
It's situated west of Downtown Miami and Little Havana, so easily commutable but with a distinctly residential feel.
And this is backed up by the high percentage of single-family residential zoning – 72%.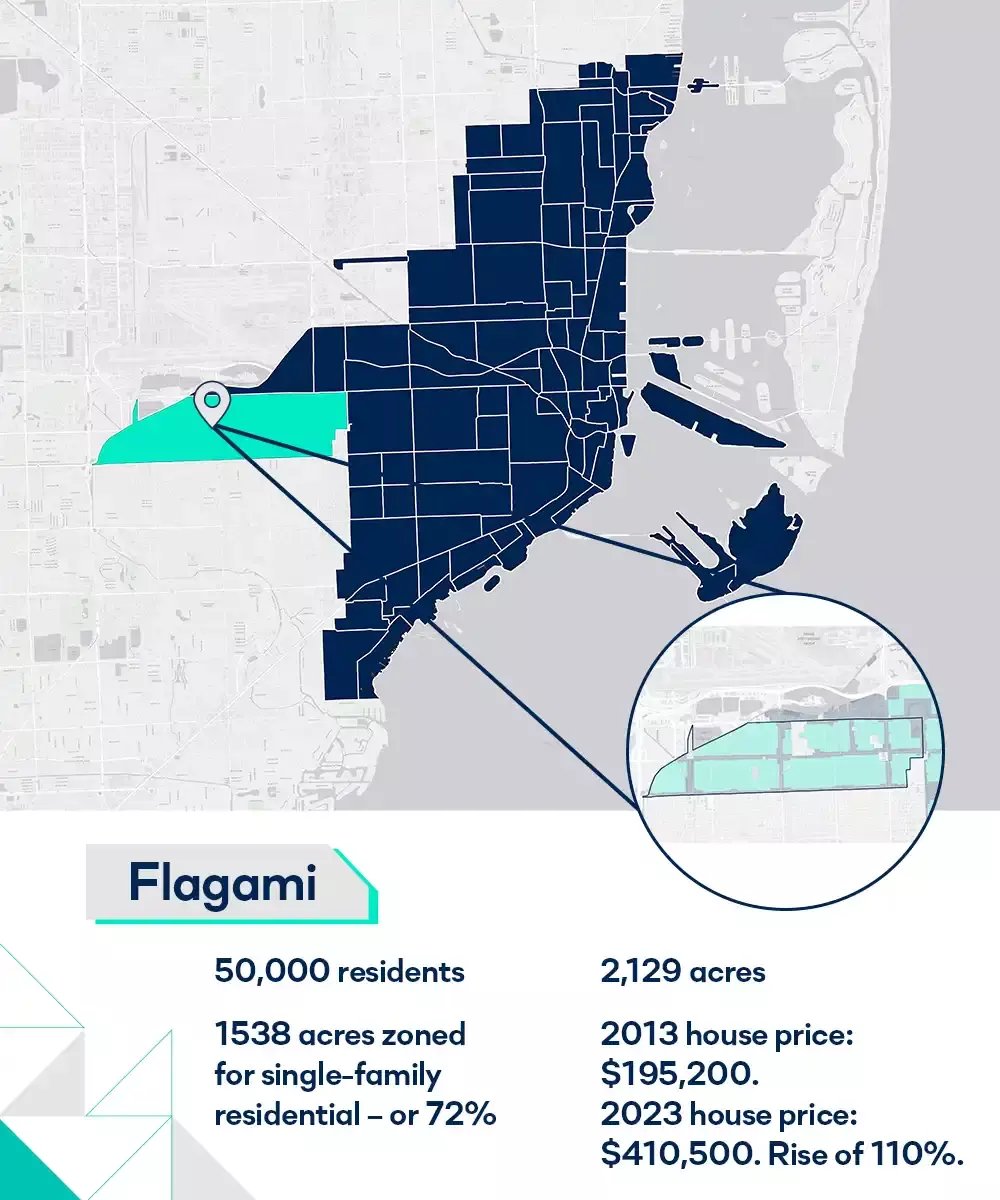 Of Flagami's 2,129 acres,1,538 (72%) are zoned for single-family residential. Similar to the Upper East Side, the average household size in Flagami is larger than the average for Miami at 7.2 persons. This is likely to signify an untapped demand for household formation in the neighborhood (i.e. household sizes are large due to the unavailability of appropriate houses in the locality to allow adult children to move out).
House price-wise, we're back to seeing a more substantial increase between 2013 and 2023. Flagami's house prices rose by 110% – from $195,200 to $410,500. Figures are almost on par with the Upper East Side which also had a high level of single-family zones.
What does this mean for Miami's housing market?
In our original data story, we concluded that high levels of single-family zoning in Miami were responsible for driving up single-family house prices.
But, when we zoom into Miami's neighborhoods, it becomes possible to conclude that single-family residential zoning isn't just responsible for the growth of single-family homes, but the entire housing market.
Flagami and the Upper East Side have both seen impressive growth at 117% and 110% respectively.
From the data above, and the conclusion we gathered as a result, there is a general rule of thumb for developers when it comes to zoning in Miami. However, the great variety of zoning laws, even within one city, vary wildly so it's worth tailoring your approach to operate on a neighborhood-by-neighborhood basis.
Identifying opportunities on a neighborhood level
Each neighborhood in Miami has a distinct look and feel – meaning that residents (or prospective residents) are after a specific experience when living there.
This could be easy access to the beachfront, a short drive into the CBD, or a quiet residential area with good schools.
Analyzing zoning data can help you unlock all this information and enable you to build the types of homes that people moving to these areas would want to live in.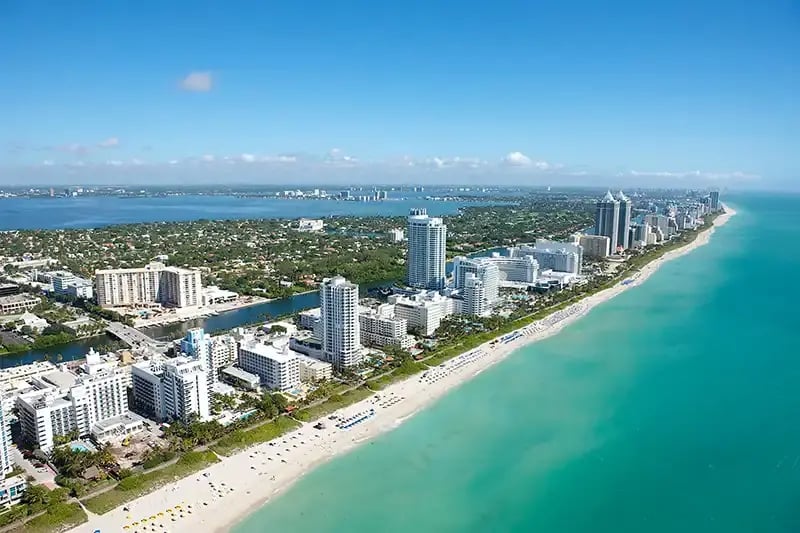 With the high percentage of single-family residential zones in both Flagami and the Upper East Side, your hands are pretty tied in regards to the type of housing you're going to be able to build there – most of the areas are restricted to single-family homes.
Depending on your resources, target demographic, and appetite for either larger single units or skyscrapers with hundreds of units, you're going to have to finetune where you start your site-sourcing journey.
Leveraging hyper-localized data in LandInsight
With zoning playing such a big role in the demand for specific types of housing, it's more important than ever that you're able to access this data as seamlessly as possible.
LandInsight lets you click on any plot of land in the Florida area, and instantly see which zoning constraints it falls under. So, you can see if you're able to build a home that you can sell at a single-family home premium, or whether you should focus on developing multiple units on one plot.
Once you've checked that you're able to build what you want on that plot, you can easily click through to see ownership information or use our hazards layer to see if it would be impacted by swamps, flood zones, or any other potential constraints.
Basically, all the data you need in one place.
If you want to find out how LandInsight can help make it easier for you to source and assess opportunities, get in touch today.
Drop us a line and we'll show you how
Let's talk